Incorporated in 1959, H&K Tool & Machine Company is ITAR Registered and AS9100D Certified. Our mission is to offer customers our industry expertise and provide quality products, on spec, on time, and at the best possible price.
H&K is the recipient of the "Supplier of the Year Award" for 14 years of consecutive outstanding quality and service and is a "Certified Dock to Stock Vendor" to our major customers.
H&K continues to focus on equipment, safety, compliance, software and security. We are a company that values our history, customers and employees, and continually look for ways to retain and attract new talent.
Our History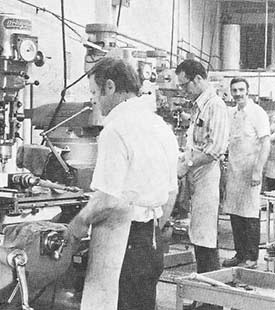 H&K Tool and Machine was founded in 1959 by Erich Haug and Theodor Korner as a two-man machine shop located in Philadelphia, Pa. The original facility was engaged in the manufacturing of electromechanical precision components and tooling for the beverage industry, serving such companies as American Can, National Can and Crown Cork & Seal. Due to expansion of the customer base, it became necessary for the company to move into increasingly larger facilities, finally settling in our present location of Huntingdon Valley, PA.
In 1988, two former H&K employees, Stanley Elias Sr. and Frank Tilger, then principals of Elger Tool and Machine Company, purchased H&K from retiring owners Erich & Ted. As new owners they upgraded H&K's equipment, invested in new technologies and expanded the facility's manufacturing operations. Many of the employees that worked alongside Stan & Frank are still valued employees of H&K today.
In 2013, Stan Elias Jr. joined the organization following a 20-year career with Fortune 500 companies such as FMC, Motorola, Tyco and Arris International. Stan implemented many of these company's best practices as H&K continues to expand its presence both domestically and internationally.
In 2018, H&K Tool and Machine received its 14th consecutive "Supplier of the Year Award" for outstanding quality and service and remains a certified dock to stock vendor to our major customers.
H&K continues to make significant capital investments for new equipment, safety, compliance and ongoing maintenance. We are continuing to grow our workforce & upgrade equipment to provide quality machining services for the industries and customers we serve.